Lyric mezzo-soprano Valentina Stadler is much sought-after on the international opera and concert
scene.
She has guested at opera houses and festivals, including Teatro Comunale di Bologna, Ópera de Tenerife (Cherubino/Le Nozze di Figaro), Teatro Regio di Parma (Fidalma/Il matrimonio segreto), the Audi Summer Concerts (Stéphano/Roméo et Juliette), the Göttingen International Handel Festival, Innsbruck Festival (Gismonda in Handel's Ottone), and the Semper Opera in Dresden (Modestina/Il Viaggio di Reims), collaborating with conductors such as Elias Grandy, Yi-Chen Lin, Zubin Mehta, Jonathan Nott, and Keri-Lynn Wilson. Stadler will make her role début as one of the three Rhine Maidens (Wellgunde) and one of the Valkyries (Siegrune) in Basel Municipal Theatre's complete production of Wagner's Ring cycle from 2023 to 2025.
In concert appearances, Valentina Stadler works on a regular basis with conductor Jérémie Rhorer. Under his direction, she recently sang the part of the Angel in Schumann's Das Paradies und die Peri at the Audi Summer Concerts (Ingolstadt), at the Beethovenfest in Bonn, and at the Cologne Philharmonie. This season, she sings in Mendelssohn's A Midsummer Night's Dream, with Rhorer conducting, at the Essen Philharmonie and the Festival de Beaune (France).
Further engagements have led her to sing in Beethoven's 9th Symphony with the Orchestra Sinfonica della RAI (Ion Marin), in Haydn's Paukenmesse at Salzburg Festival (Riccardo Minasi), in Luciano Berio's Folk Songs at the Ruhrtriennale (with Ensemble Modern), in Mozart arias at Berlin Staatsoper (Giuseppe Mentuccia), and in Mozart's Coronation Mass with the Mozarteum Orchestra (Leopold Hager) in Barcelona and Oviedo. With the Filarmonica Arturo Toscanini Orchestra in Parma, she sang songs from Gustav Mahler's Des Knaben Wunderhorn under the baton of Johannes Debus and was invited to return to Parma in 2024 to perform in Beethoven's 9th Symphony with Enrico Onofri conducting.
At the Klangvokal Music Festival in Dortmund, Valentina Stadler sang the title role in Massenet's dramatic oratorio La Vierge to widespread acclaim. Her repertoire includes the major orchestra song cycles of Mahler, Wagner's Wesendonck-Lieder, Elgar's Sea Pictures, Berlioz's Les nuits d'été, Ravel's Shéhérazade, and Britten's cantata Phaedra. She is also particularly fond of the oratorios of Bach and Mendelssohn.
Born and raised in Karlsruhe, Valentina Stadler studied voice in Berlin (with Julia Várady and Wolfram Rieger) and in New York City. While still a student, she gave her Salzburg Festival début within the framework of the Young Singers Project in the role of Myrtale (Thaïs) with Munich Radio Orchestra conducted by Patrick Fournillier. For several seasons she was a member of the soloist ensemble of the Staatstheater am Gärtnerplatz in Munich, where she covered the roles of Dorabella (Così fan tutte), Zweite Dame (Zauberflöte), Hänsel (Hänsel und Gretel), Concepción (L'heure espagnole), and Maddalena (Rigoletto). Masterclasses with Thomas Hampson, Graham Johnson, Malcolm Martineau, Christa Ludwig, and Christine Schäfer have provided further experience and inspiration.
Valentina Stadler is a prizewinner of the Richard Strauss Competition and of Michael Schade's Stella Maris International Vocal Competition. Renowned acting coach Susan Batson awarded her a scholarship to study at the Susan Batson Studio in New York City.
Singing has always been an essential means of expression for Valentina, ever since childhood. Her love for music was kindled by her grandmother, who introduced her to the symphonies of Beethoven and Mozart when she was a young child. As E. T. A. Hoffmann once wrote about Beethoven's 5th Symphony: "Music unlocks for mankind an unknown realm – a world with nothing in common with the surrounding outer world of the senses. Here we abandon definite feelings and surrender to an inexpressible longing."
Apart from singing, Valentina's further interests lie in the domains of fashion, psychology, natural healing, interior design, jewelry design, and vintage cars.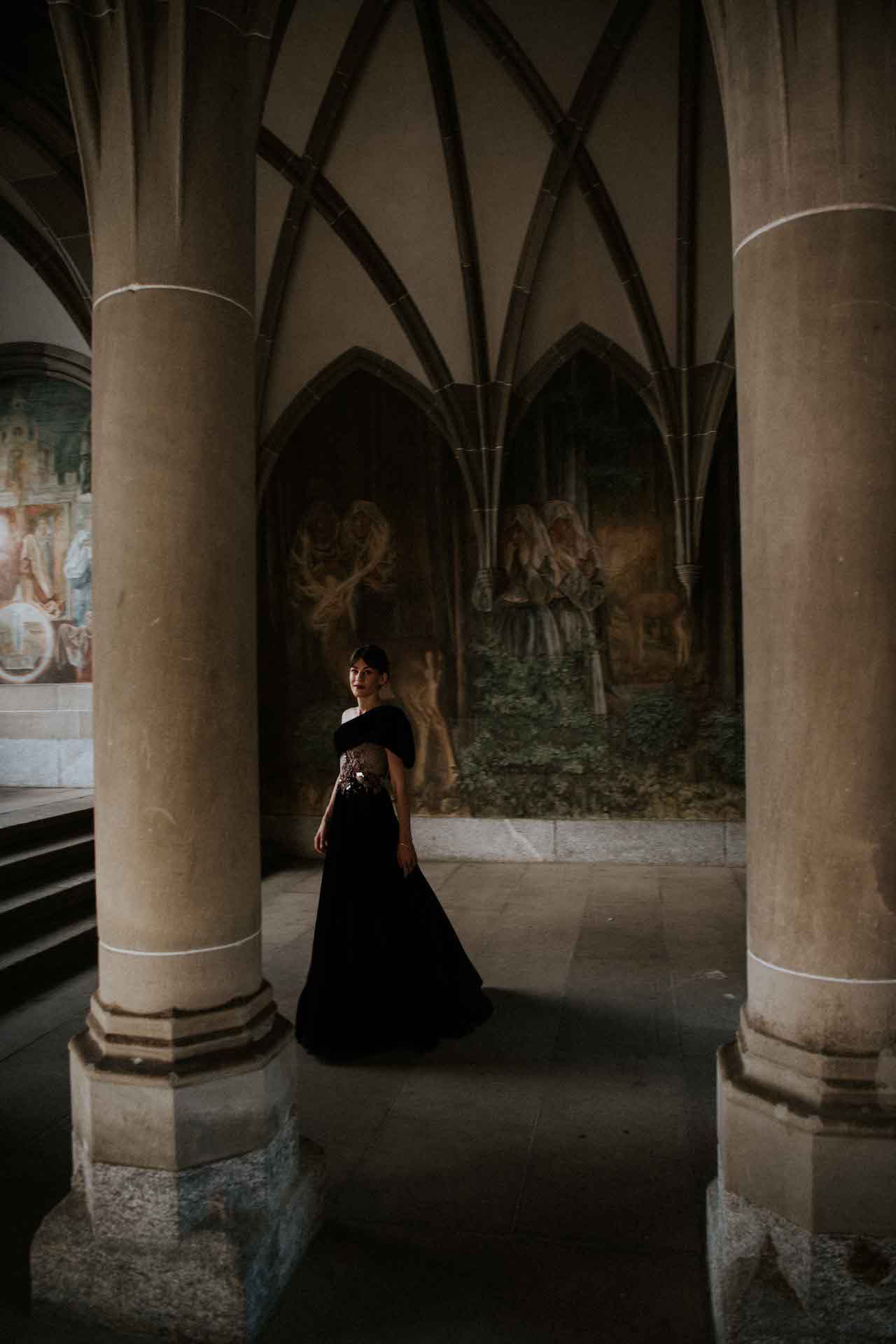 Die lyrische Mezzosopranistin Valentina Stadler ist als Opern- und
Konzertsängerin international gefragt.
Sie gastiert an Opernhäusern und bei Festivals wie dem Teatro Comunale di Bologna und der Ópera de Tenerife (Cherubino/Le Nozze di Figaro), beim Teatro Regio di Parma (Fidalma/Il matrimonio segreto), bei den Audi Sommerkonzerten (Stéphano/Romeo et Juliette), beim Festival Internationale Händel Festspiele Göttingen, den Innsbrucker Festwochen (Gismonda in Ottone/Händel) und der Semperoper Dresden (Modestina/Il Viaggio di Reims).
Dabei arbeitet sie mit Dirigenten wie Elias Grandy, Yi-Chen Lin, Zubin Mehta, Jonathan Nott und Keri-Lynn Wilson.
Am Theater Basel gibt Valentina Stadler in den Spielzeiten 2023-2025 ihre Rollendebuts als Rheintochter (Wellgunde) und Walküre (Siegrune) in Wagners Ring der Nibelungen.
Auf der Konzertbühne arbeitet sie regelmässig mit Jérémie Rhorer zusammen, zuletzt als Engel in Schumanns Das Paradies und die Peri bei den Audi Sommerkonzerten Ingolstadt, beim Beethovenfest Bonn und in der Kölner Philharmonie. Außerdem ist sie mit ihm in dieser Saison mit Mendelssohns Sommernachtstraum in der Philharmonie Essen sowie beim Festival de Beaune zu erleben.
Weitere Engagements führten sie mit Beethovens 9. Symphonie zum Orchestra Sinfonica della Rai (Ion Marin), mit Haydns Paukenmesse zu den Salzburger Festspielen (Riccardo Minasi), mit Berios Folk Songs zur Ruhrtriennale (mit dem Ensemble Modern), mit Mozart-Arien an die Staatsoper Berlin (Giuseppe Mentuccia) und mit Mozarts Krönungsmesse nach Barcelona und Oviedo, zusammen mit dem Mozarteumorchester (Leopold Hager). Bei der Filarmonica Toscanini sang sie unter Leitung von Johannes Debus Lieder aus Mahlers Des Knaben Wunderhorn und wurde für 2024 mit Beethoven`s 9. Symphonie (Enrico Onofri) erneut eingeladen.
Beim Klangvokal Musikfest in Dortmund sang sie mit grossem Erfolg die Titelpartie in Massenets dramatischem Oratorium La Vierge.
Ihr Repertoire enthält die großen Orchesterliedzyklen Mahlers, Wagners Wesendonck-Lieder, Elgars Sea Pictures, Berlioz' Les Nuits d'été und Ravels Shéhérazade, sowie Brittens Kantate Phaedra.
Außerdem gehört ihre Leidenschaft den Oratorien Bachs und Mendelssohns.
Valentina Stadler, geboren und aufgewachsen in Karlsruhe, studierte in Berlin (bei Julia Várady und Wolfram Rieger) und in New York.
Sie gab bereits während des Studiums ihr Debüt bei den Salzburger Festspielen im Rahmen des Young Singers Project in der Rolle der Myrtale (Thais) mit dem Münchner Rundfunkorchester (Patrick Fournillier).
Sie war mehrere Spielzeiten am Münchner Staatstheater am Gärtnerplatz  engagiert und debütierte dort als Dorabella (Così fan tutte), Zweite Dame (Zauberflöte), Hänsel (Hänsel und Gretel), Concepción (L'heure espagnole) und Maddalena (Rigoletto).
Meisterkurse bei Thomas Hampson, Graham Johnson, Malcolm Martineau, Christa Ludwig und Christine Schäfer gaben ihr wichtige Impulse.
Sie ist Preisträgerin des Richard Strauss Wettbewerbs und des Stella Maris Wettbewerbs von Michael Schade. Von Susan Batson erhielt sie ein Stipendium an dessen Schauspielstudio in New York.
Das Singen war für Valentina bereits von früher Kindheit an eine Art sich auszudrücken, prägend für ihre Liebe zur Musik war ihre Grossmutter, die sie schon als kleines Kind an Beethoven Symphonien und Mozart heranführte.
E.T.A. Hoffmann schreibt zu Beethoven`s 5. Symphonie: "Die Musik schließt dem Menschen ein unbekanntes Reich auf; eine Welt, die nichts gemein hat mit der äußeren Sinnenwelt, die ihn umgibt, und in der er alle durch Begriffe bestimmbaren Gefühle zurückläßt, um sich dem Unaussprechlichen hinzugeben."
Neben dem Gesang hat Valentina viele weitere Interessen wie Mode,  Psychologie, Naturheilkunde, Interior Design, Schmuck-Design und Oldtimer Autos.